Actor Leonard Whiting: They call him the "Beautiful" Boy

From the Publicity guide for ROYAL HUNT OF THE SUN (Provided by Laura Lawrence):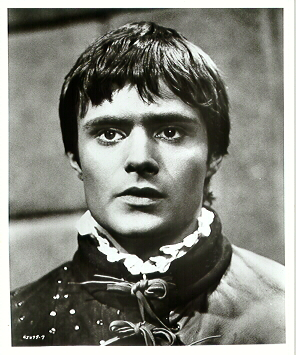 LONDON.....The question "to be or not to be" has a different application to Leonard Whiting, the 19-year-old romantic lead who rose to stardom as Shakespeare's tragic hero in Franco Zeffirelli's "Romeo and Juliet." "I want to be a good actor," he says, "not just an overnight star." "I know I have an enormous amount to learn when it comes to acting" Whiting admits. "I hope that I shall never stop learning because I believe that an actor should be receptive and open to new ideas and interpretations."

Despite his brief professional experience, Whiting managed to hold his own among a glittering cast that included Robert Shaw and Christopher Plummer in his second major movie, Cinema Center Films' "THE ROYAL HUNT OF THE SUN,"

"It's a tremendous experience working with such a distinguished cast," he says of the venture. "Shaw and Plummer as well as Nigel Davenport and Michael Craig, have done an enormous amount of excellent work. It's good to watch them perform. An actor learns so much from watching other good actors." "The Romeo role was quite different," Whiting confesses. "Most of the cast were just youngsters like myself, and we played more with instinct than with experience. And, of course, there were no established stars as such in my first movie. In National General Pictures' release "THE ROYAL HUNT OF THE SUN" we had a renowned cast that had reputations to uphold. Professionals really work. They don't know how to give less than their
best."

Whiting's career, which has been no less than meteoric, began by an act of fate four years ago. Whiting happened to be in a recording studio when an agent heard him sing and suggested he try for a part in Lionel Bart's original production of "Oliver!" Whiting's first audition won him the
feature role of the Artful Dodger with two songs to his credit.

While continuing his schooling, he sang in "Oliver!" for fifteen months before joining the British National Theatre as a featured boy singer. With a celebrated stage company headed by Sir Lawrence Olivier and Geraldine MacEwan, he appeared in "Love for Love" at the Old Vic and traveled with the production to theatres in Moscow and Berlin. Some months later he was
chosen for the film role of Romeo after auditioning for the part with several hundred other hopefuls. The Romeo role opened up new avenues to his career, but presented a problem too. During the production some writer tagged him as "beautiful" and the reference stuck. "I don't know who dreamed up the beautiful bit in the beginning," Whiting says now, "but the last way I would describe myself, or any other male for the matter, is beautiful." "I'm certainly not complaining. The word quite likely fell out of some reporter's typewriter and he probably did me a favor, but in my opinion a male must be soft in the head to see himself as beautiful."

Whiting's attitude toward acting parallels his approach to romance. "My immediate plans definitely do not include marriage," he says. "It's something to look forward to, but ten years from now will be soon enough for me. My career comes first and I'm not in a frantic hurry about that either.
I want to gain the experience which will entitle me to call myself a good actor." The strong supporting part of Martin, a teenager who accompanied the Spanish conquerors of Peru, definitely falls into the category of roles that will afford him solid acting experience. "The term overnight star is a bit frightening," Whiting admits. "I'm glad of my success, but I want to prove I am worthy of it." There are few doubts he'll do just that.

Note: The press guide mentions at that time of making the movie, Leonard received several thousand fan letters per week.