LEONARD WHITING IN VERONA
FOR "CARA GIULIETTA" PRIZE
14 February 2004
Reported from Giovanna Tamassia, Chief Secretary of Club di Giulietta, Verona.
Leonard Whiting in Verona, Juliet's house, during the "Cara Giulietta" prize .
"It was very nice to meet him. He has always been so kind and caring towards all us. He is not like a VIP, he always talked and told us many things about his life. Lynn Presser is a very sweet lady.... :) Leonard and Lynn came with one of their godchildren, a 13 years old boy, who lives in Scotland and other countries (the have 6 godchildren!).
Leonard looks like a true English gentleman, always witty and kind. He was very happy to be here, and he told that he spent four wonderful days in Verona. We booked a room at Hotel Accademia and they were very satisfied with this accomodation.
On Friday night we met them for the first time and we had dinner together, also with the two winners. Stefania Di Meglio came with her boyfriend from Ischia, Southern Italy, and Dorothea Seydel came from Berlin with her father.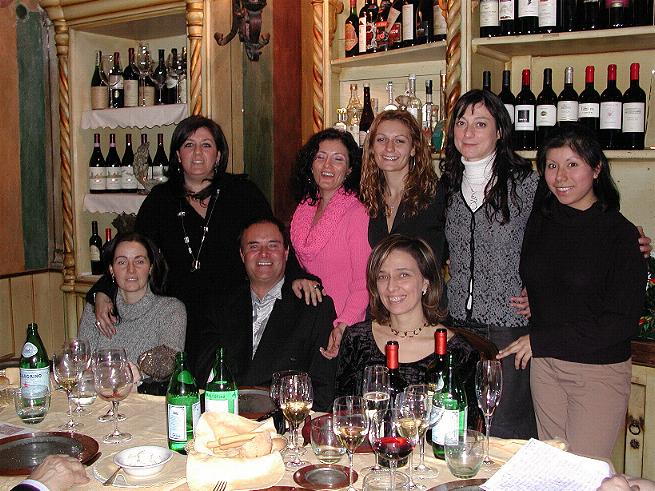 Leonard with all the staff and winners of "Cara Giulietta" prize in Dodici Apostoli Restaurant - Verona

The day after we awarded the prize at Juliet House. In the afternoon the celebrations went on at Teatro Filarmonico, in Sala Maffeiana with a performance made by some students of theatre. In the interview made after the ceremony he told that he was really in love with Olivia when they were young, it was not only publicity:

"The part I remember with most fondness is when Romeo sees Juliet for the first time in the ballroom scene. It was not just publicity but Olivia was my first big love and that scene shows how much I cared for her, a friendship which has endured to this day." Talking about the film he also told:"I feel it was a privilege for one so young to partecipate in a movie that has become a classic and has enriched the lives of so many people worldwide" In the evening we went to 12 Apostoli.

On Sunday Leonard and Lynn were free and stayed alone and went through the town and they visited the Tomb of Juliet too. He was also in Juliet House and he visited it.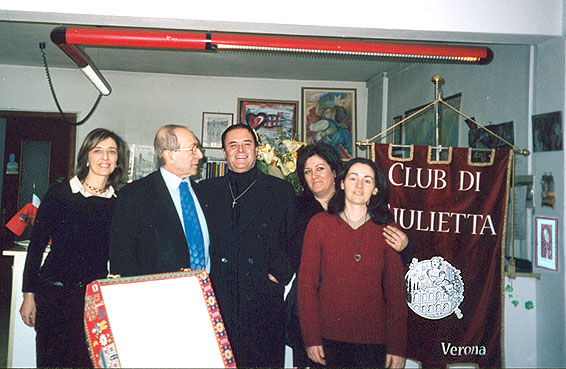 Leonard in the Club di Giulietta - from left to right, Giovanna and Giulio Tamassia, Leonard, and Stefania and Elena, club staff.
On Monday they came to the Club for a while, we showed them the letters and they were touched by reading some of them. Leonard told us that we should be happy to make this kind of work, because we help people with their problems, and it is a good thing if someone in his small way can do something to make the world a little better. Then we had lunch together and in the evening Luca took them to the airport."
- Thanks to Olia to share with us pictures and report! -
The "Club di Giulietta" site: www.julietclub.com